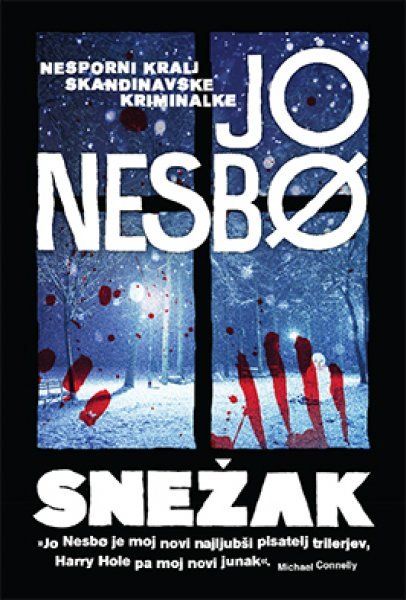 Genre
Novels
Published
2014
Pages
314
Rights sold
Albania, Croatia, UK
Materials
Slovenian material, Croatian material
Sample
Tags
violence, comedy, thriller, drama
Snežak in zelena kitara
Snowman and green guitar
by

Jo Nesbo

In 1980, a married woman has illicit sex with a lover while her adolescent son waits in a car outside; their lovemaking is disturbed when they think somebody is looking at them from outside the window, which turns out to have been only a tall snowman. Twenty-four years later, Norwegian detective Harry Hole investigates a string of murders of women around Oslo. His FBI training leads him to search for links between the cases, and he finds two of them—each victim is a married mother and a snowman appears at every murder scene.

Looking through cold cases, Hole realises that he is tracking Norway's first known serial killer. Most of the victims vanished after the first snowfall of winter, and snowmen were found near each scene. Further digging leads Harry and his team, including newcomer Katrine Bratt, to suspect that paternity issues with the children of the victims may be a motive for the murders. They discover that all of the victims' children have different fathers from the men they believe to be their father. Following DNA testing, results lead the investigation down a few wrong alleys and several suspects are eliminated from the enquiry.
---
Awards
Nordic Noir Thriller of the Year Award

Sweden

2017

Shortlisted for the Book of the Year Award

Sweden

2016

Longlisted Rok Award the Year Award

Albania

2013
---
Reviews
In this fourth and final installment, his writing is at its best. Engström's hard-boiled, sarcastic and intellectual style (think Raymond Chandler) works perfectly for the comments about Tbilisi, the city without a chance and with all the possibilities, caught in the middle between East and West, Christianity and Islam, life and death.

The real merit, and it's significant, is that [Engström] gives us portraits that make the boiling freeze to ice: "You thought you could use a thoroughbred psycho, a mistake that people have done in all times.

As in earlier novels, Engström is also in the final installment skilled at crafting fast-paced and entertaining suspense that he balances with a willful and depictive prose and a great sense of environment.
---
More books by Joe Nesbo